Five-year-old Leon Carson has told all his friends about his new home in Lakeside.
"He's so excited about the playgrounds," says mum Robyn Elgar. "Everything's within walking distance. We can walk to the playground and the new childcare centre."
Robyn, Leon and his father, John Carson, are trading city life for a place of their own in Lakeside. They have lived in Auckland "our whole lives," Robyn says, and had signed a contract to buy in the city before the sale fell through.
"We saw it as a sign to look outside of Auckland," Robyn recalls. "We drove past Te Kauwhata and thought, 'oh my goodness, this place looks cool,' so then I started looking it up and came across the Key2 website. The next day I drove straight down and fell in love. It is such a lovely small town."
With Emily from Key2's guidance, Robyn and John used their savings and KiwiSaver and bought their first home through Lakeside's Colab scheme, an affordable housing product managed by Kāinga Ora. Colab home prices are capped at $650,000 for three-bedroom, mostly standalone homes.
Local construction company Callavate built their home in just five months, and the family moved in last month. Already, Leon is enrolled at BestStart Lakeside Village early learning centre and is due to start school at Te Kauwhata Primary next term.
Robyn says Colab and its price cap were a big help, and working with family-owned Callavate made the buying and construction process very smooth.
"The communication has just been amazing. The whole process has been so open. They're always updating us and letting us know the next step. It's really exciting."
Sheena Young, who co-owns Callavate with her husband, Matt, says "We just really care about our clients. We know these houses are a massive, special part of their lives. For Robyn, it's their first home, they've got a little family. If they can have some say in it, it gives it their personal touch and makes it theirs. We just really want to build a quality product that they'll love."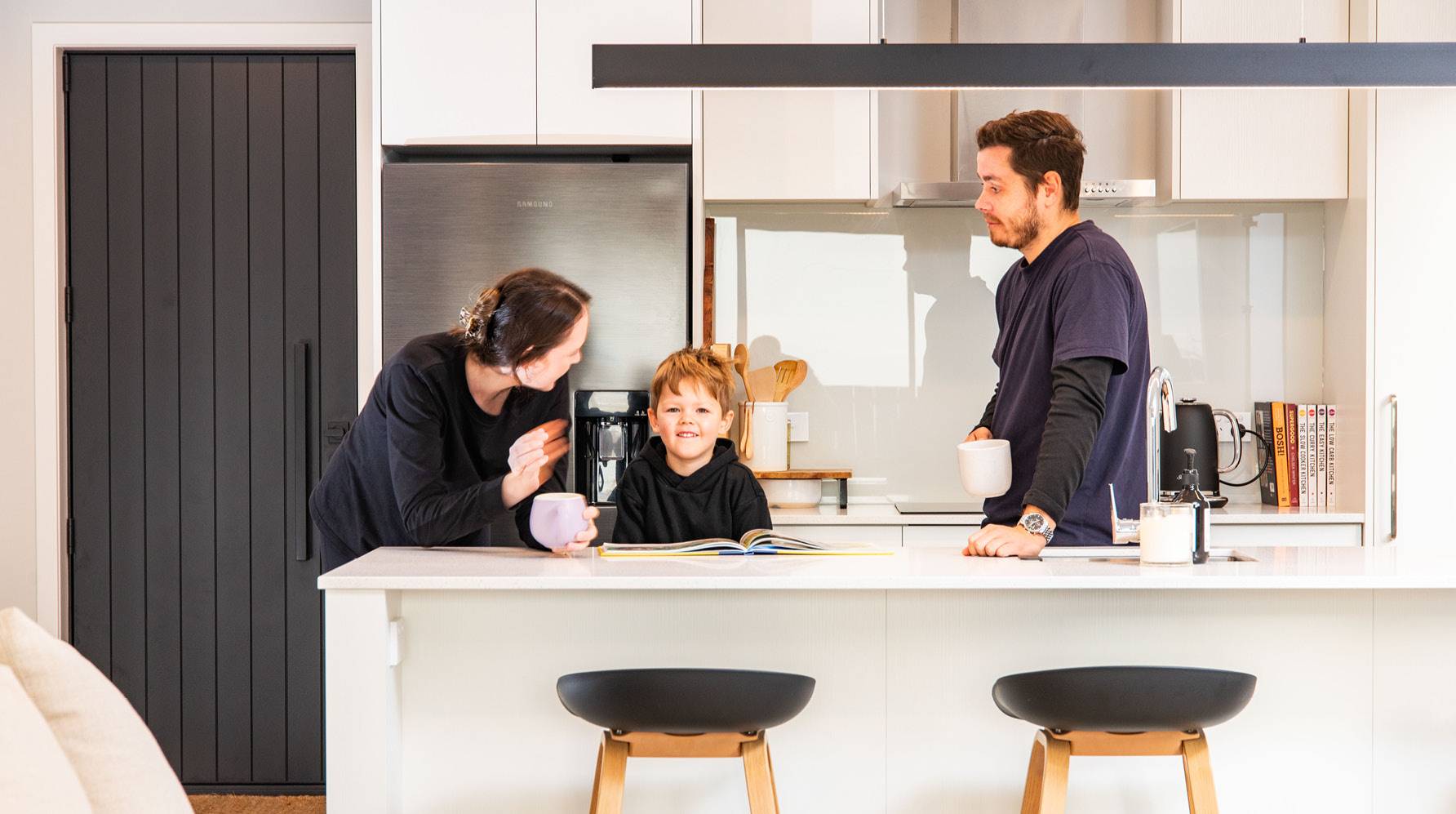 The couple chose their new home's exterior and interior colours. "We've been so involved that it really makes it feel like our home," Robyn says. Robyn and John also selected many of their new home's fittings and finishing touches, including the flooring; the kitchen island, benchtop, cabinetry and splashback; and even their preferred planting option.
Sheena and Matt were born and bred in Te Kauwhata, and they know it inside and out.
"We can help our clients get set up here with local schools, playgroups and sport clubs, right down to the local doctor, beauty salon, and hairdresser," Sheena says. "If people are worried about relocating, we're kind of a one-stop shop for helping them get set up - from local amenities to helping them source business and employment opportunities through our connections. Matt and I, and our kids have become good friends with most of our clients and regularly enjoy various activities together."
Robyn, who is expecting the couple's second child in January, is now working remotely from Lakeside. John works for an electrical company in Auckland and is looking for opportunities closer to home.
"We're moving our whole life to Lakeside," Robyn says happily.